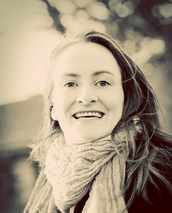 Welcome!

Katherine is committed to making yoga accessible for anyone who has an interest, regardless of age, physical or mental ability. She is a registered yoga teacher (RYT-500 and RCYT) and teaches alignment-based yoga, vinyasa, and restorative yoga throughout the San Francisco Bay Area.

Katherine, like all yoga teachers, stands on the shoulders of giants. She is humbled by and grateful for her main mentors Richard Rosen, Leslie Howard, and JoAnn Lyons and additional influential teachers Ramanand Patel and Annie Carpenter.
---
---
Katherine experienced the joys of yoga for the first time in 2002 as an Environmental Science student at UC Santa Barbara. As a graduate student at Penn State University, practicing and studying yoga provided Katherine which much needed grounding and centering. With time, her initial enjoyment of the physical asana practice developed into a passion for all things yoga, including the classical and modern yoga history and philosophy. Katherine began sharing her passion with others after completing a teaching training from Lila Yoga in 2012, Piedmont Yoga Studio in 2014, and Yoga Rascals in 2015.